MISSION
"TO FOSTER TOLERANT, PHYSICALLY AND MENTALLY HEALTHY INDIVIDUALS WHO ARE PREPARED TO DEAL WITH GLOBAL CHALLENGES BY ADAPTING TO THE CONSTANT CHANGES IN SOCIETY"
VALUES
1. PATRIOTISM (PRIDE OF THE ACHIEVEMENTS AND CULTURE OF THE COUNTRY, THE DESIRE TO CONTRIBUTE TO ITS DEVELOPMENT);
2. THE NATIONAL IDENTITY (MAINTAINING A CULTURE OF GOOD RELATIONS BETWEEN PEOPLES, RESPECT FOR CUSTOMS AND TRADITIONS, AND TOLERANCE);
3. HARMONIOUS DEVELOPMENT (THE ALL-ROUND DEVELOPMENT OF PEOPLE, WHO ARE IN HARMONY WITH THEMSELVES);
4. ACTIVE CITIZENSHIP (ENGAGEMENT IN THE LIFE OF THE COMMUNITY, STRIVING TO BE OF SERVICE TO ONE'S COUNTRY AND ONE'S PEOPLE, THE ABILITY TO EXPRESS ONE'S OPINION WITH  PROPRIETY);
5. EMPATHY (COMPREHENSION OF THE EMOTIONAL INNER WORLD OF ANOTHER PERSON TO CREATE DEEPER AND MORE PERSONAL RELATIONSHIPS);
6. SELF-EXPRESSION (DEVELOPMENT OF  THE INNER WORLD, FOLLOWING THE VOICE OF CONSCIENCE, AND BEING ENGAGED WITH THE WORLD);
7. DILIGENCE (WILLINGNESS TO GIVE THE TIME, STRENGTH, AND ENERGY FOR THE SOCIAL AND USEFUL GOOD).
GLOBAL CITIZEN
A global citizen is a person who knows that he/she is part of a bigger world and has responsibilities towards other people based on respect for human rights, fairness and diversity. A global citizen is internationally minded. He/she works towards a better world by participating in local and world affairs through the sharing of knowledge and making a positive difference. Global citizens have a responsibility to the world community and to improve themselves in order to make societies better.
VISION
"We provide high quality learning and teaching in a safe and inclusive environment in a changing world"
INTERNATIONAL MINDEDNESS
International Mindedness requires an open minded-community in which all people consider the context of and respect other cultures and nations.  All international and intercultural actions are done in cooperation and motivated to lead to a peaceful world of collaboration. The development of humankind and global citizenship require international mindedness.
GLOBAL CITIZENSHIP
Global Citizenship requires a deep and broad awareness of our own roots and culture within an international perspective. It is based on the ability to create the balance between personal identity of our own and other cultures and nations while integrating in and maintaining the global community. Through a respectful attitude towards other people, global citizenship requires assisting in the creation of a better world that includes communication, accountability, voluntary and informed participation. These principles must apply to individuals and to groups.
Digital Citizen:
In the Nazarbayev Intellectual School community of Astana the term digital citizenship is defined in reference to responsibilities and empathy that we as individuals will behave according to our use of digital technology in social, academic and personal interaction.
We will maintain our values such as harmonious development, active citizenship, empathy in our consideration for each other, self-expression from our personalities, respect for the privacy of oneself and others, and diligence in our inquiry. This is necessary to be inclusive and honest.
Our citizenship will be managed in the digital world using the above values while exchanging information in digital devices including all kinds of computers, while on the internet or not. It includes e-mail, social media of any platform and visiting web-sites. The importance of being a responsible and considerate digital citizen continues in all contexts.
Being a good digital citizen is important for education, respect, voluntary collaboration, communication and self-development. These are needed to contribute to the characteristics of international mindedness, intercultural awareness, respect for identity and human rights.
Nazarbayev Intellectual School of Astana
is an international school that provides educational opportunities for gifted students through International Baccalaureate programmes and whose mission is to develop intellectual community, intercultural understanding and the value of lifelong learning.
As a community, we provide learning and teaching of high quality (HQTL) through curriculum and further education courses. We care for the welfare and safety of students through the cultivation of national and personal values.
Personalised teaching and learning
is realised through the development of programs for individual students' needs.
Curriculum
Our curricula are International Baccalaureate programmes designed for national educational needs, providing opportunities to develop creative and critical thinking, and to reflect on the diversity of global learning and teaching learning through personal experience of choosing only the best practices.
Additional educational courses
Our further education courses include creative, language, technical and sporting activities, where each student develops and realises his or her individual potential and puts his or her knowledge into practice.
Concern for the welfare of students
Our concern for students' welfare is a constant concern for the social and emotional environment. Therefore, we make sure every student feels happy and comfortable at school to enjoy the learning process.
Student safety
The safety of our students means providing first aid; a well-developed emergency and lockdown evacuation system; and information about anti-terrorism and other useful life knowledge, skills and possible actions.
Promoting such national and personal values
as patriotism, national identity, harmonious development, active citizenship, empathy, self-expression, diligence as the core of our coherent, balanced curriculum, oriented to the development of skills to cover students' individual needs through differentiation and various resources (virtual, natural).
Criteria based assessment
is rigorous assessment of students' achievements to improve learning by using effective feedback and systematic moderation and standardisation. Assessment methods are various, fit-for-purpose, authentic, consistent, fair, inclusive and transparent.
Concept-based teaching and learning
is developed via key and related concepts, global contexts, inquiry, and interdisciplinary units, providing opportunities for students' self-expression and deeper understanding, not only in subjects, but through links with real life.
Student centered teaching and learning
moves students from passive receivers of information to active participants in their own learning process, which is provided by the ongoing professional development of teachers. The student's voice is central to gain learning experiences for every learner and it requires students to be responsible participants of the educational process, accepting critically a variety of ideas, their connections with real life and their future career based on the IB Learner profile and natural curiosity
 

About the organization of the 2023-2024 academic year
Beginning of the academic year:
September 1, 2023.
The end of school year:
7-9, 11 grades – May 31, 2024.
10th grade – May 31, 2021 (not taking into account external evaluation)
12th grade – April 23, 2024.
Vacation days of the academic year:
* autumn – 7 days – from October 30 to November 5, 2023 (inclusive)
* winter – 14 days – from December 25, 2023 to January 7, 2024 (inclusive);
* spring – 9 days – from 21 to 29 March 2024 (inclusive).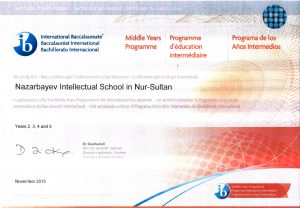 Nazarbayev Intellectual School of Astana received authorisation for the International Baccalaureate Core Curriculum in November 2015.
International Baccalaureate schools share a common philosophy that offers quality international education.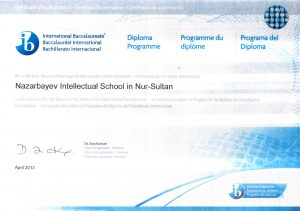 Nazarbayev Intellectual School of Astana successfully passed the International Baccalaureate Diploma Programme authorisation in April 2013.
It is the only school in the network of Nazarbayev Intellectual Schools that runs an IB programme.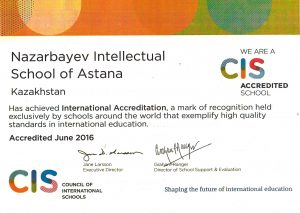 Nazarbayev Intellectual School of Astana received its Council of International Schools (CIS) accreditation certificate in June 2016.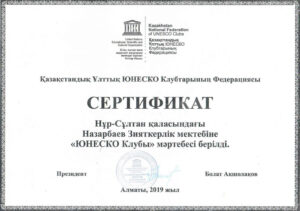 Nazarbayev's Astana Intellectual School receives 'UNESCO Club' status in 2019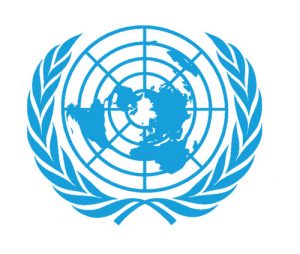 Nazarbayev Intellectual School of Astana is part of a community of UN or «UNM» model clubs.
Graduation grade (out of 45)
Entered a foreign university
Pers.project score (out of 7)
Entered the TOP-100 universities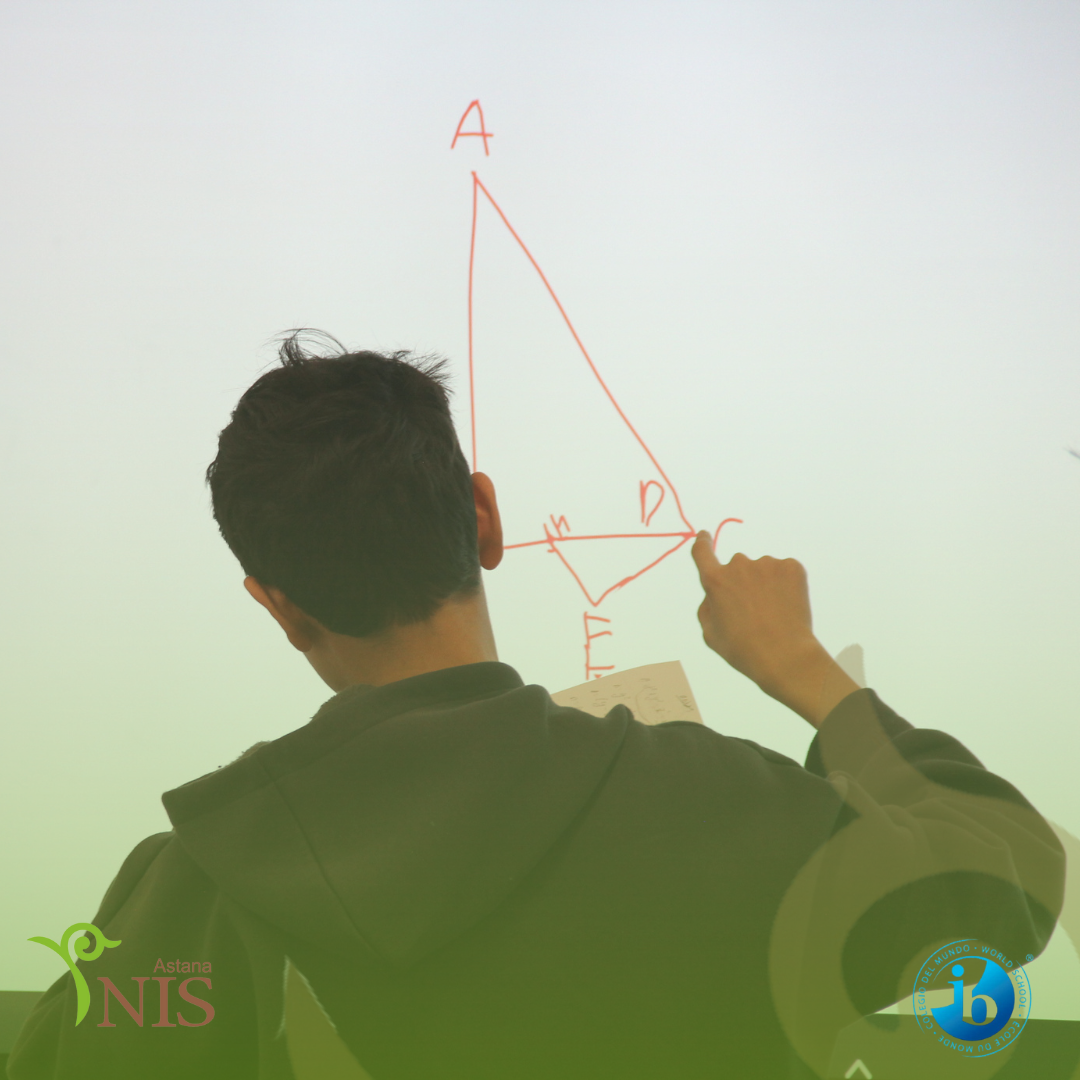 Astana Maths Olympiad from Mathlets x Maths Battles was held within the walls of Nazarbayev Intellectual School in Astana
In total, more than 550 teams from 36 schools have registered. Kazakhstan. The participants were from different cities of our country, such as Astana, Almaty, Taraz, Turkestan, Ust-Kamenogorsk, Karaganda, Semey and Shchuchinsk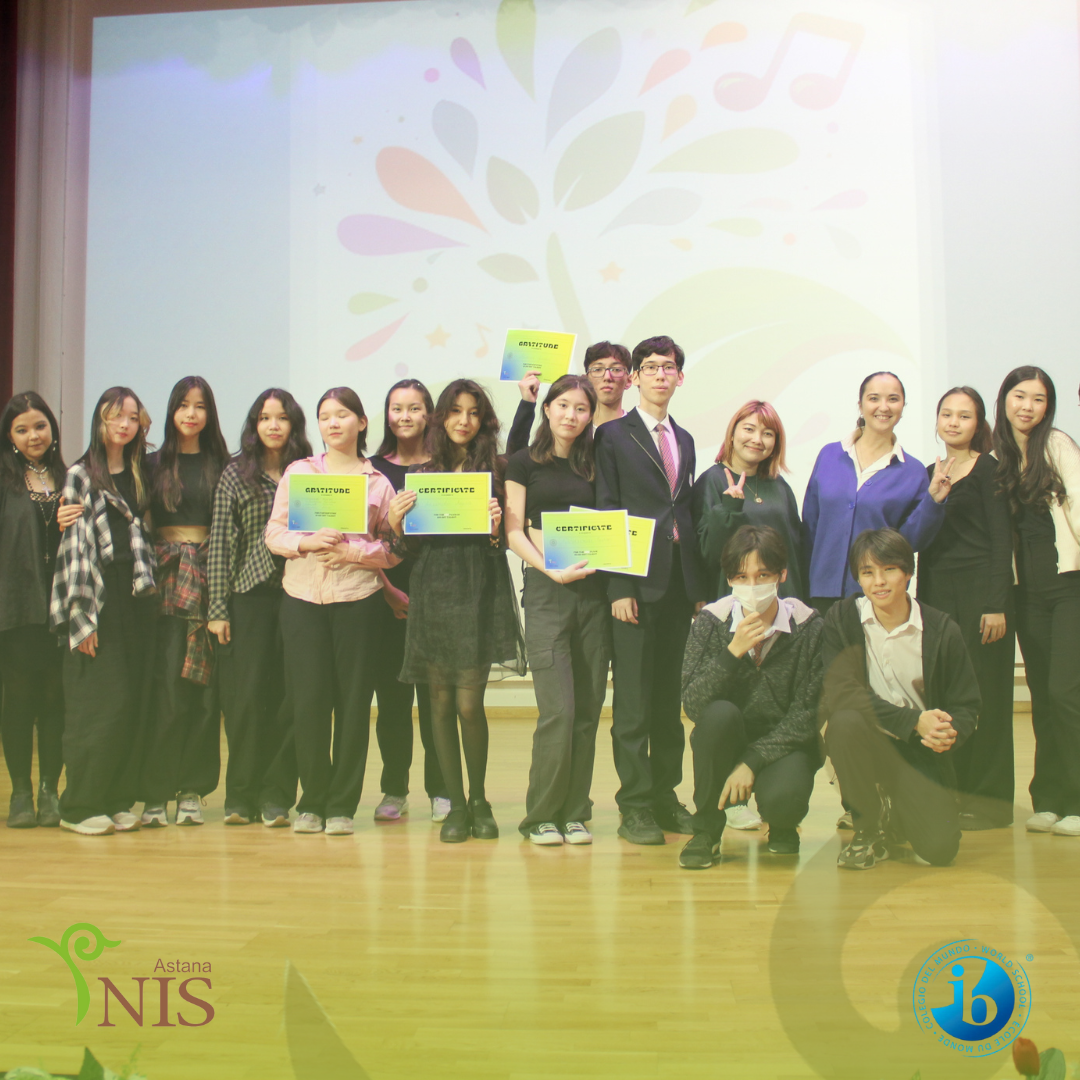 Talent Surge: NIS GOT TALENT has hooked everyone!
A real creative celebration has unfolded at the Nazarbayev Intellectual School in Astana – NIS GOT TALENT!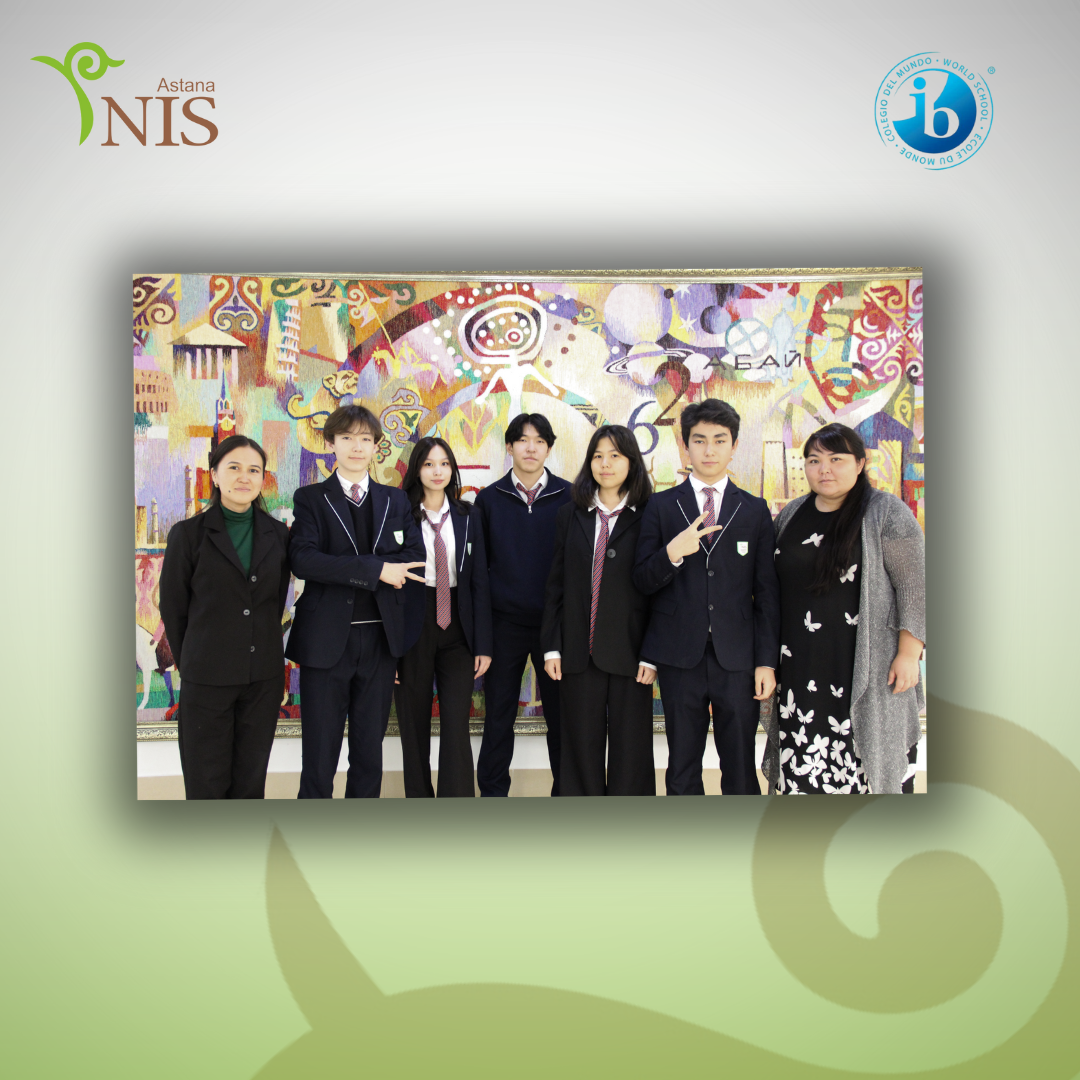 Students of the Nazarbayev Intellectual School representing Kazakhstan took first place in the World Invention Competition and Exhibition (WICE)
Personality. Character. Success