MISSION
"TO FOSTER AN INTELLECTUAL COMMUNITY WHOSE MEMBERS ARE ALL GUIDED IN THEIR DEVELOPMENT BY HIGH MORAL VALUES, INTERCULTURAL UNDERSTANDING, AND LIFELONG LEARNING".
VALUES
1. PATRIOTISM (PRIDE OF THE ACHIEVEMENTS AND CULTURE OF THE COUNTRY, THE DESIRE TO CONTRIBUTE TO ITS DEVELOPMENT);
2. THE NATIONAL IDENTITY (MAINTAINING A CULTURE OF GOOD RELATIONS BETWEEN PEOPLES, RESPECT FOR CUSTOMS AND TRADITIONS, AND TOLERANCE);
3. HARMONIOUS DEVELOPMENT (THE ALL-ROUND DEVELOPMENT OF PEOPLE, WHO ARE IN HARMONY WITH THEMSELVES);
4. ACTIVE CITIZENSHIP (ENGAGEMENT IN THE LIFE OF THE COMMUNITY, STRIVING TO BE OF SERVICE TO ONE'S COUNTRY AND ONE'S PEOPLE, THE ABILITY TO EXPRESS ONE'S OPINION WITH  PROPRIETY);
5. EMPATHY (COMPREHENSION OF THE EMOTIONAL INNER WORLD OF ANOTHER PERSON TO CREATE DEEPER AND MORE PERSONAL RELATIONSHIPS);
6. SELF-EXPRESSION (DEVELOPMENT OF  THE INNER WORLD, FOLLOWING THE VOICE OF CONSCIENCE, AND BEING ENGAGED WITH THE WORLD);
7. DILIGENCE (WILLINGNESS TO GIVE THE TIME, STRENGTH, AND ENERGY FOR THE SOCIAL AND USEFUL GOOD).
GLOBAL CITIZEN
IT IS A PERSON WHO KNOWS THAT HE/SHE IS PART OF A BIGGER WORLD AND HAS RESPONSIBILITIES TOWARDS OTHER PEOPLE BASED ON RESPECT FOR HUMAN RIGHTS, FAIRNESS, AND DIVERSITY. A GLOBAL CITIZEN WORKS TOWARDS A BETTER WORLD BY PARTICIPATING IN LOCAL AND WORLD AFFAIRS THROUGH THE SHARING OF KNOWLEDGE AND MAKING A POSITIVE DIFFERENCE. GLOBAL CITIZENS HAVE A RESPONSIBILITY TO THE WORLD COMMUNITY AND TO IMPROVE THEMSELVES IN ORDER TO MAKE SOCIETIES BETTER.
VISION
WE STRIVE TO PROVIDE TEACHING AND LEARNING, WHICH ALLOWS FOR THE HOLISTIC DEVELOPMENT OF THE STUDENT AND AIMS AT CREATING A TOLERANT WORLD AROUND US.
INTERNATIONAL MINDEDNESS
IT IS A DEEP AWARENESS OF THE NATIONALITY AND CULTURE FROM THE POINT OF THE INTERNATIONAL PERSPECTIVE, BASED IN THE INTEREST IN CREATING BALANCE BETWEEN ONE'S OWN IDENTITY AND WORLD CULTURES; INTEREST IN KEEPING NATIONAL IDENTITY, CULTURE, AND LANGUAGE RESPECTING OTHER PEOPLES' CULTURES AND LANGUAGES; INTEREST IN FINDING ONE'S OWN PLACE IN GLOBAL DIVERSITY USING EFFECTIVE COLLABORATION AND COMMUNICATION TO BE AN ACTIVE CITIZEN OF THE ONE'S OWN COUNTRY: BEING RESPONSIBLE FOR TAKING DECISIONS ON THE LOCAL, NATIONAL AND INTERNATIONAL LEVELS; AND AN INTEREST IN ACCEPTING CHALLENGES IN THE WORLD WHILE SUPPORTING THE CAUSATION OF A PEACEFUL WORLD.
GLOBAL CITIZENSHIP
IT REQUIRES A DEEP AND BROAD AWARENESS OF OUR OWN ROOTS AND CULTURE WITHIN AN INTERNATIONAL PERSPECTIVE, BASED ON THE ABILITY TO CREATE THE BALANCE BETWEEN PERSONAL IDENTITY OUR OWN AND OTHER CULTURES; ABILITY TO KEEP OUR OWN NATIONAL IDENTITY, CULTURE, AND LANGUAGE; INTEGRATING AND MAINTAINING THEIR INTEGRITY INTO THE GLOBAL COMMUNITY THROUGH A RESPECTFUL ATTITUDE TOWARDS VARIOUS CULTURES AND LANGUAGES OF OTHER PEOPLE; THE ABILITY TO FIND OUR OWN PLACE IN THE DIVERSE WORLD FOLLOWING THE PRINCIPLES OF EFFECTIVE VOLUNTARY COLLABORATION AND COMMUNICATION IN ORDER TO BE AN ACTIVE CITIZEN OF THE OWN COUNTRY AND THE WORLD, ACCEPTING PERSONAL RESPONSIBILITY FOR OUR DECISIONS IN THE NATIONAL AND INTERNATIONAL COMMUNITY AND REALIZING CHALLENGES OF COOPERATION IN AN ENVIRONMENT OF INTERNATIONAL CULTURAL DIVERSITY, ASSISTING IN THE CREATION OF A BETTER WORLD THROUGH COMMUNICATION, ACCOUNTABILITY, AND VOLUNTARY CONSENT
Nazarbayev Intellectual School in Nur – Sultan
is an international school that provides educational opportunities for gifted students through International Baccalaureate programmes and whose mission is to develop intellectual community, intercultural understanding and the value of lifelong learning.
As a community, we provide learning and teaching of high quality (HQTL) through curriculum and further education courses; caring for the welfare and safety of students through the cultivation of national and personal values.
Curriculum
Our curricula are International Baccalaureate programmes designed for national educational needs, providing opportunities to develop creative and critical thinking, and to reflect on the diversity of global learning and teaching learning through personal experience of choosing only the best practices.
Additional educational courses
Our further education courses include creative, language, technical and sporting activities, where each student develops and realises his or her individual potential and puts his or her knowledge into practice.
Concern for the welfare of students
Our concern for students' welfare is a constant concern for the social and emotional environment, so that every student feels happy and comfortable at school to enjoy the learning process.
Student safety
The safety of our students means providing first aid; a well-developed emergency and lockdown evacuation system; and information about anti-terrorism and other useful life knowledge, skills and possible actions.
Promoting such national and personal values
as patriotism, national identity, harmonious development, active citizenship, empathy, self-expression, diligence as the core of our coherent, balanced curriculum, oriented to the development of skills to cover students' individual needs through differentiation and various resources (virtual, natural).
Criteria based assessment
is rigorous assessment of students achievements to improve learning by using effective feedback and systematic moderation and standardisation. Assessment methods are various, fit-for-purpose, authentic, consistent, fair, inclusive and transparent.
Concept-based teaching and learning
is developed via key and related concepts, global contexts, inquiry, and interdisciplinary units, providing opportunities for students' self-expression and deeper understanding, not only in subjects, but through links with real life.
Personalised teaching and learning
is realised through the development of programs for individual students' needs.
Student centered teaching and learning
moves students from passive receivers of information to active participants in their own learning process, which is provided by the ongoing professional development of teachers. The student's voice is central to gain learning experiences for every learner and it requires students to be responsible participants of the educational process, accepting critically a variety of ideas, their connections with real life and their future career based on the IB Learner profile and natural curiosity
Booking a school visit
In order to regulate the flow of visitors during the quarantine period, it is recommended to book the date and time of the visit in advance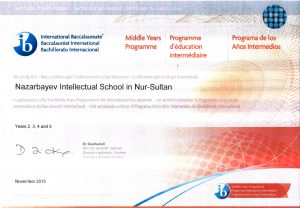 Nazarbayev Intellectual School in Nur-Sultan received authorisation for the International Baccalaureate Core Curriculum in November 2015.
International Baccalaureate schools share a common philosophy that offers quality international education.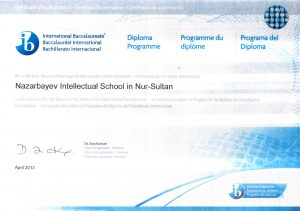 Nazarbayev Intellectual School in Nur-Sultan successfully passed the International Baccalaureate Diploma Programme authorisation in April 2013.
It is the only school in the network of Nazarbayev Intellectual Schools that runs an IB programme.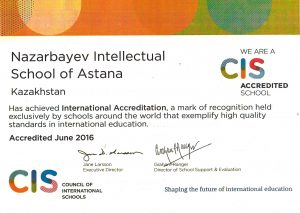 Nazarbayev Intellectual School Nur-Sultan received its Council of International Schools (CIS) accreditation certificate in June 2016.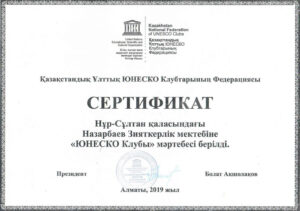 Nazarbayev's Nur-Sultan Intellectual School receives 'UNESCO Club' status in 2019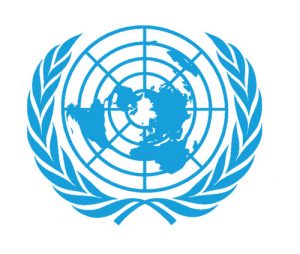 Nazarbayev Intellectual School in Nur-Sultan is part of a community of UN or «UNM» model clubs.
Graduation grade (out of 45)
Entered a foreign university
Entered the TOP-100 universities
Pers.project score (out of 7)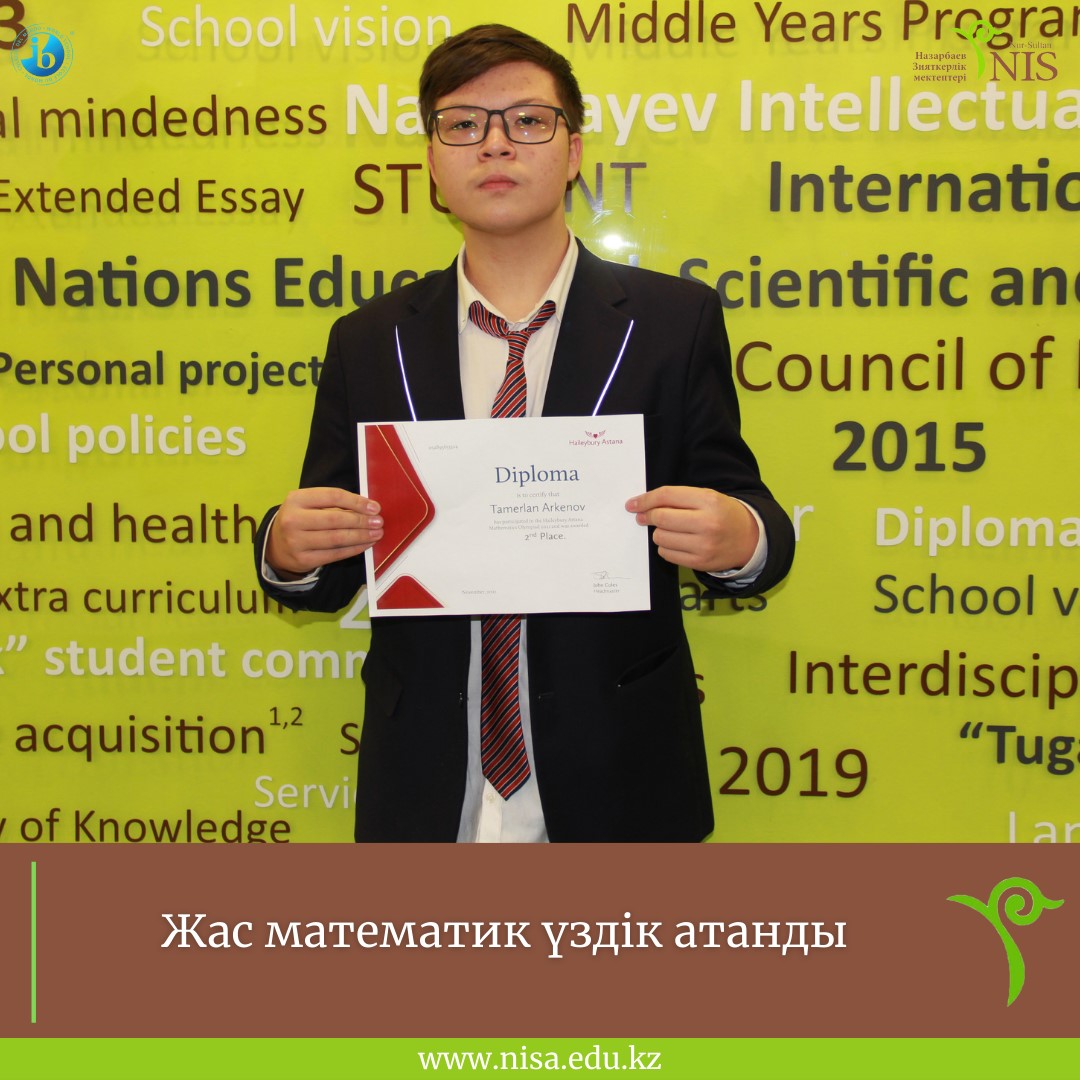 Young mathematician among the best
Tamerlan Arkenov, a grade 8 student from Nazarbayev Intellectual School in Nur-Sultan, took second place in the Haileybury Mathematics Olympiad 2021-2022!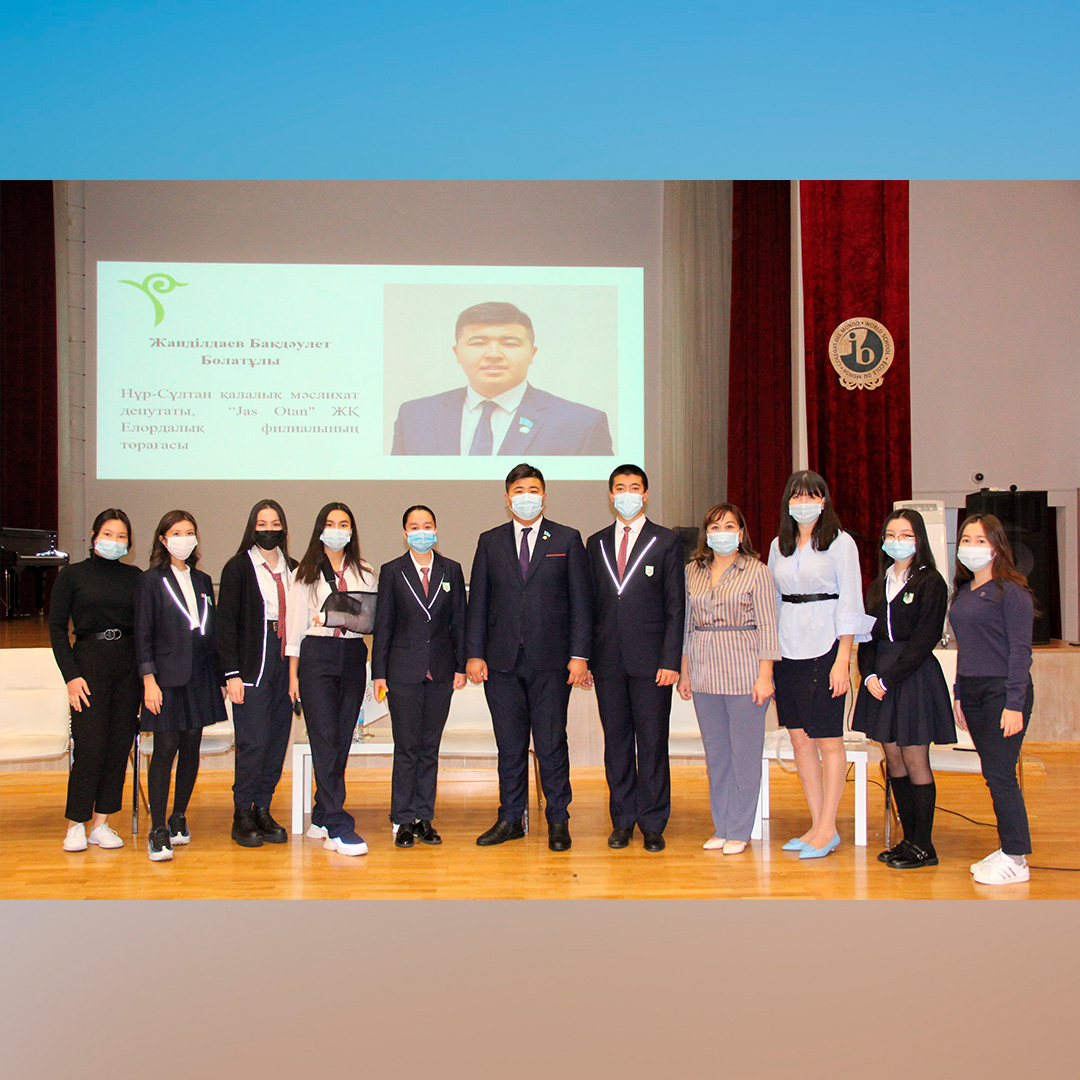 In Nazarbayev Intellectual school in Nur-Sultan was organized TEDx-conference dedicated to the 30th anniversary of independence.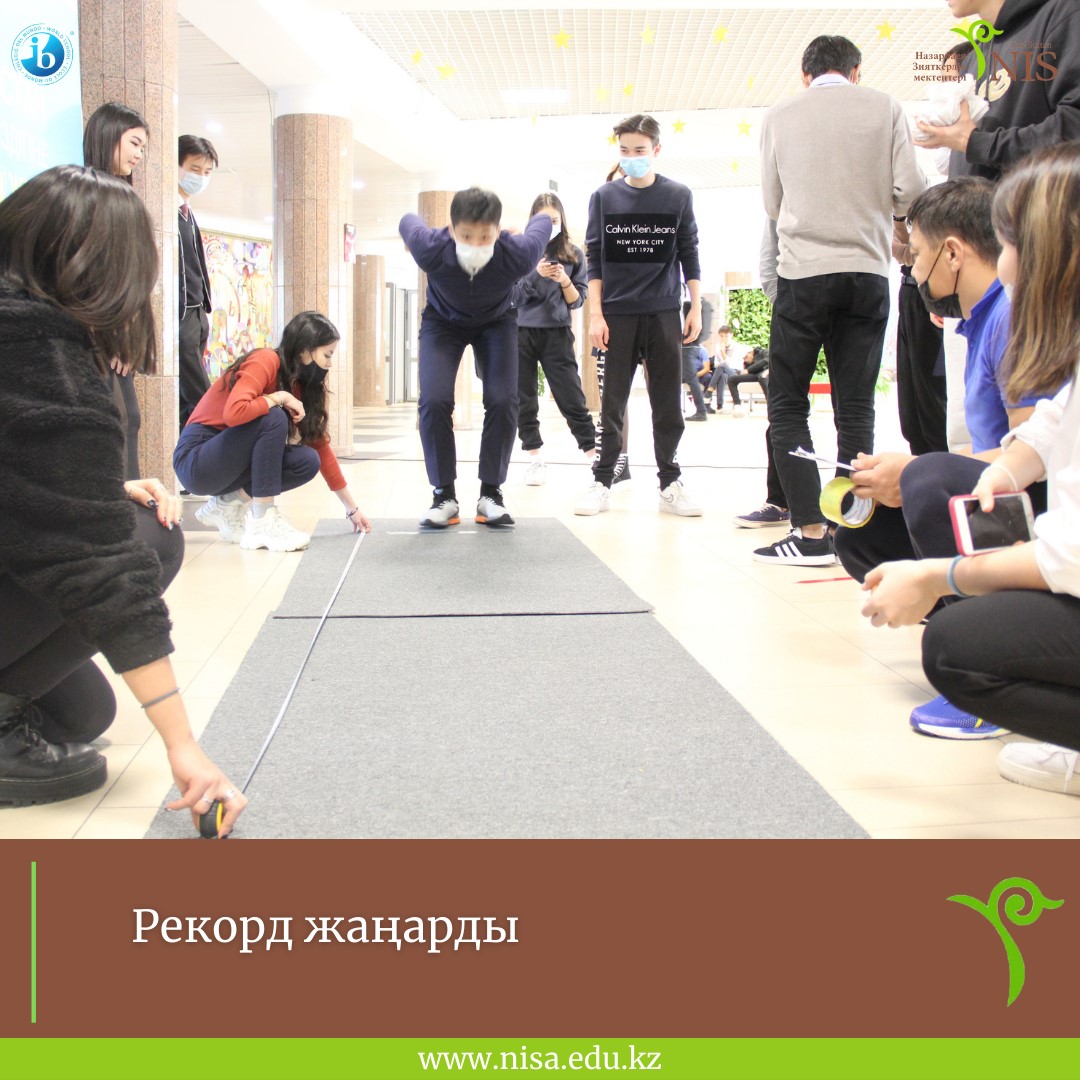 The record for the long jump was updated at our school.
Personality. Character. Success