MISSION
"TO FOSTER TOLERANT, PHYSICALLY AND MENTALLY HEALTHY INDIVIDUALS WHO ARE PREPARED TO DEAL WITH GLOBAL CHALLENGES BY ADAPTING TO THE CONSTANT CHANGES IN SOCIETY"
VALUES
1. PATRIOTISM (PRIDE OF THE ACHIEVEMENTS AND CULTURE OF THE COUNTRY, THE DESIRE TO CONTRIBUTE TO ITS DEVELOPMENT);
2. THE NATIONAL IDENTITY (MAINTAINING A CULTURE OF GOOD RELATIONS BETWEEN PEOPLES, RESPECT FOR CUSTOMS AND TRADITIONS, AND TOLERANCE);
3. HARMONIOUS DEVELOPMENT (THE ALL-ROUND DEVELOPMENT OF PEOPLE, WHO ARE IN HARMONY WITH THEMSELVES);
4. ACTIVE CITIZENSHIP (ENGAGEMENT IN THE LIFE OF THE COMMUNITY, STRIVING TO BE OF SERVICE TO ONE'S COUNTRY AND ONE'S PEOPLE, THE ABILITY TO EXPRESS ONE'S OPINION WITH  PROPRIETY);
5. EMPATHY (COMPREHENSION OF THE EMOTIONAL INNER WORLD OF ANOTHER PERSON TO CREATE DEEPER AND MORE PERSONAL RELATIONSHIPS);
6. SELF-EXPRESSION (DEVELOPMENT OF  THE INNER WORLD, FOLLOWING THE VOICE OF CONSCIENCE, AND BEING ENGAGED WITH THE WORLD);
7. DILIGENCE (WILLINGNESS TO GIVE THE TIME, STRENGTH, AND ENERGY FOR THE SOCIAL AND USEFUL GOOD).
GLOBAL CITIZEN
это человек, который знает, что он/она является частью большего мира и несет ответственность перед другими людьми, основанную на уважении прав человека, справедливости и многообразии. Гражданин мира обладает широким международным кругозором. Он/она работает над улучшением мира, участвуя в местных и мировых событиях, делясь знаниями и внося позитивные изменения. Граждане мира несут ответственность перед мировым сообществом и за самосовершенствование, с целью создания лучшего общества.
VISION
"Мы предоставляем обучение и преподавание высокого качества в благополучной и инклюзивной среде в быстроменяющемся мире"
INTERNATIONAL MINDEDNESS
требует сообщества открытых взглядов, в котором каждый человек учитывает условия и уважает другие культуры и народности. Все международные и межкультурные действия осуществляются в сотрудничестве и нацелены на взаимодействие по обеспечению мира на земле. Развитие всего человечества и глобального гражданства требуют международного мышления.
GLOBAL CITIZENSHIP
требует глубокого и широкого понимания наших собственных корней и культуры на международном уровне. Оно основано на способности создавать баланс между самобытностью нашей и других культур и народов, интегрируя и сохраняя мировое сообщество. Через уважительное отношение к другим народностям глобальное гражданство требует помощи в создании лучшего мира, который включает в себя общение, ответственность, добровольное и осознанное участие. Эти принципы должны применяться как к отдельным лицам, так и к группам лиц.
ЦИФРОВОЕ ГРАЖДАНСТВО
В сообществе Назарбаев Интеллектуальной школы г.Нур-Султан термин цифровое гражданство определяется с точки зрения ответственности и эмпатии,  которые будет проявлять каждая личность при использовании цифровых технологий в социальном, академическом и личном взаимодействии.
Мы будем поддерживать наши ценности, такие как гармоничное развитие,  активное гражданское участие, внимание и сочувствие друг к другу,  личностное самовыражение, уважение к своему личному пространству и других, усердие в поиске знаний. Это необходимо, чтобы быть открытыми и честными
Наше гражданство будет регулироваться в цифровом мире с использованием вышеуказанных ценностей при обмене информацией на цифровых устройствах, включая все виды компьютеров, в сети или нет. Оно включает в себя электронную почту, социальные сети любой платформы и посещение веб-сайтов. Важность быть ответственным и внимательным пользователем цифровых устройств сохраняется во всех контекстах.
Быть ответственным пользователем по отношению к цифровым устройствам важно для образования, уважения, добровольного сотрудничества, общения и саморазвития. Это необходимо для того, чтобы способствовать формированию интернационального мышления, межкультурной осведомленности, уважения личности и прав человека.
Nazarbayev Intellectual School in Nur – Sultan
is an international school that provides educational opportunities for gifted students through International Baccalaureate programmes and whose mission is to develop intellectual community, intercultural understanding and the value of lifelong learning.
As a community, we provide learning and teaching of high quality (HQTL) through curriculum and further education courses; caring for the welfare and safety of students through the cultivation of national and personal values.
Personalised teaching and learning
is realised through the development of programs for individual students' needs.
Curriculum
Our curricula are International Baccalaureate programmes designed for national educational needs, providing opportunities to develop creative and critical thinking, and to reflect on the diversity of global learning and teaching learning through personal experience of choosing only the best practices.
Additional educational courses
Our further education courses include creative, language, technical and sporting activities, where each student develops and realises his or her individual potential and puts his or her knowledge into practice.
Concern for the welfare of students
Our concern for students' welfare is a constant concern for the social and emotional environment, so that every student feels happy and comfortable at school to enjoy the learning process.
Student safety
The safety of our students means providing first aid; a well-developed emergency and lockdown evacuation system; and information about anti-terrorism and other useful life knowledge, skills and possible actions.
Promoting such national and personal values
as patriotism, national identity, harmonious development, active citizenship, empathy, self-expression, diligence as the core of our coherent, balanced curriculum, oriented to the development of skills to cover students' individual needs through differentiation and various resources (virtual, natural).
Criteria based assessment
is rigorous assessment of students achievements to improve learning by using effective feedback and systematic moderation and standardisation. Assessment methods are various, fit-for-purpose, authentic, consistent, fair, inclusive and transparent.
Concept-based teaching and learning
is developed via key and related concepts, global contexts, inquiry, and interdisciplinary units, providing opportunities for students' self-expression and deeper understanding, not only in subjects, but through links with real life.
Student centered teaching and learning
moves students from passive receivers of information to active participants in their own learning process, which is provided by the ongoing professional development of teachers. The student's voice is central to gain learning experiences for every learner and it requires students to be responsible participants of the educational process, accepting critically a variety of ideas, their connections with real life and their future career based on the IB Learner profile and natural curiosity
Booking a school visit
In order to regulate the flow of visitors during the quarantine period, it is recommended to book the date and time of the visit in advance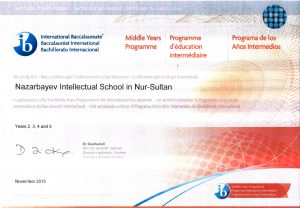 Nazarbayev Intellectual School in Nur-Sultan received authorisation for the International Baccalaureate Core Curriculum in November 2015.
International Baccalaureate schools share a common philosophy that offers quality international education.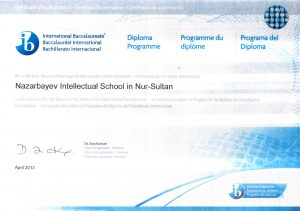 Nazarbayev Intellectual School in Nur-Sultan successfully passed the International Baccalaureate Diploma Programme authorisation in April 2013.
It is the only school in the network of Nazarbayev Intellectual Schools that runs an IB programme.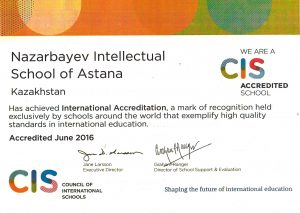 Nazarbayev Intellectual School Nur-Sultan received its Council of International Schools (CIS) accreditation certificate in June 2016.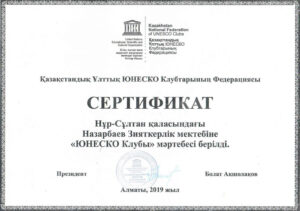 Nazarbayev's Nur-Sultan Intellectual School receives 'UNESCO Club' status in 2019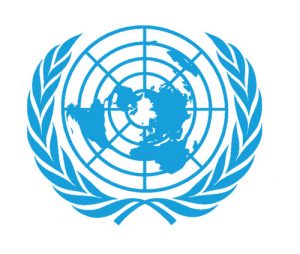 Nazarbayev Intellectual School in Nur-Sultan is part of a community of UN or «UNM» model clubs.
Graduation grade (out of 45)
Entered a foreign university
Pers.project score (out of 7)
Entered the TOP-100 universities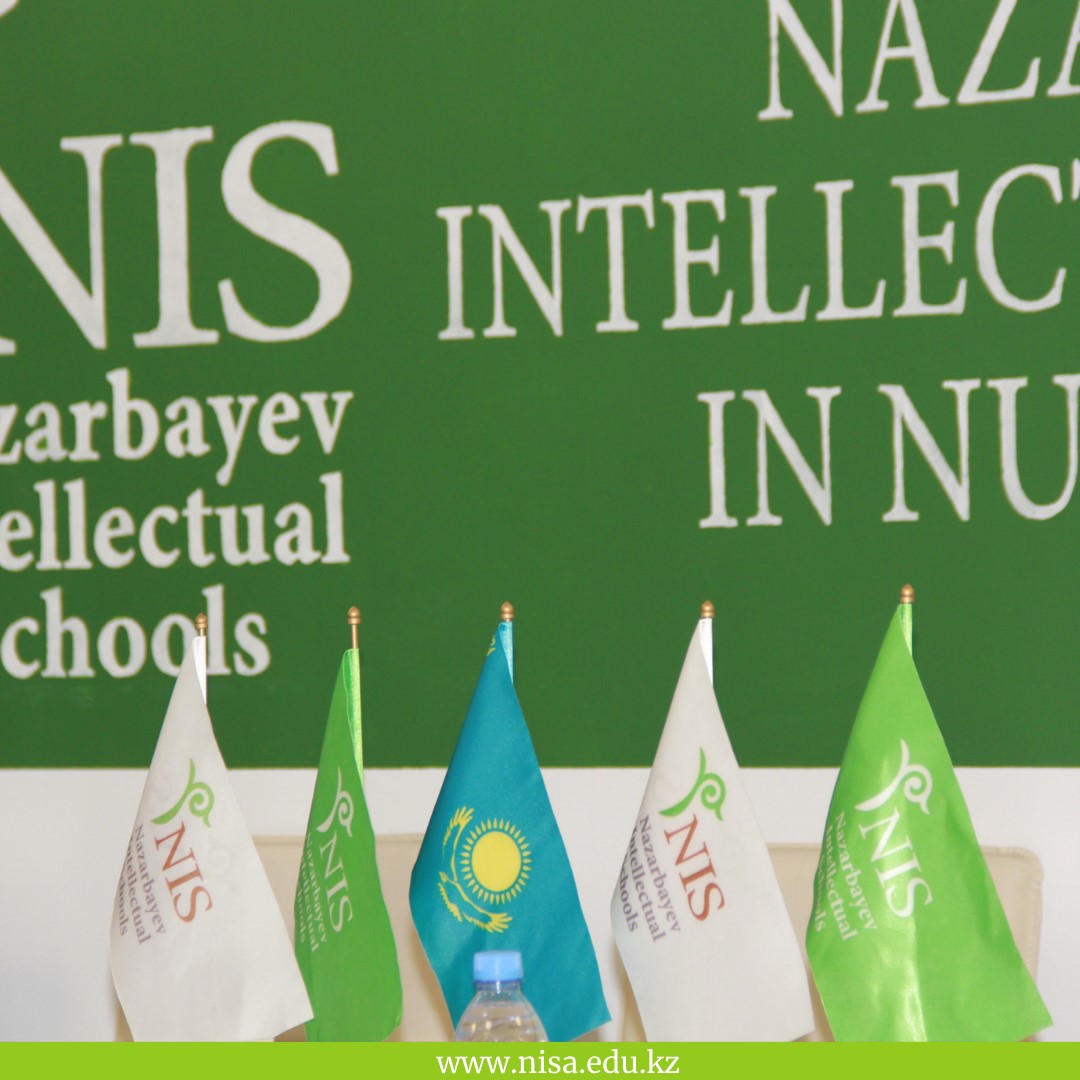 First meeting of the Board of Trustees
The first meeting of the Board of Trustees for the year 2022 was held at the Nazarbayev Intellectual School in Nur-Sultan.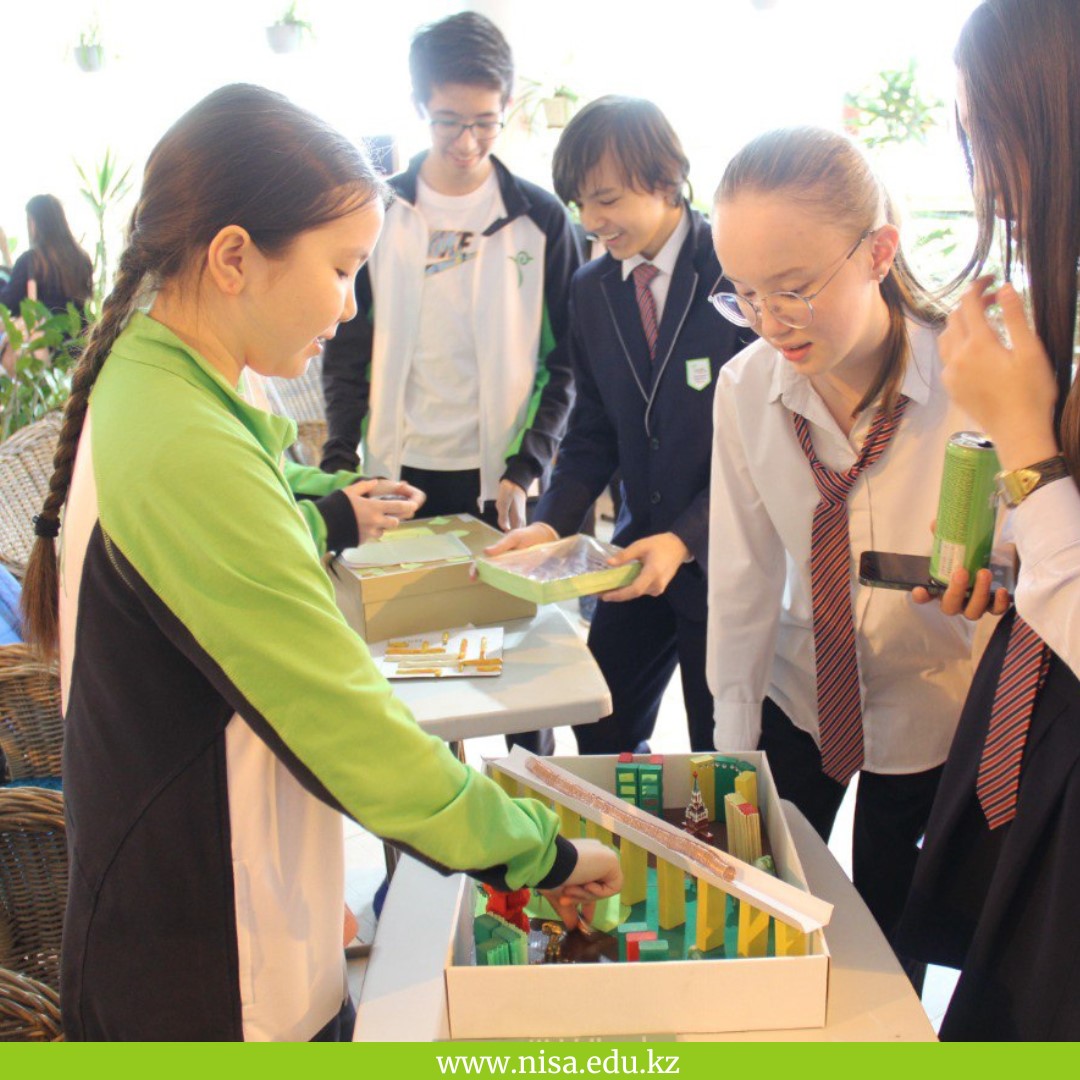 The NIS International Baccalaureate School hosted a singular exhibition
As part of the Design course, the traditional Educational toy/game exhibition was introduced to the public in a new direction.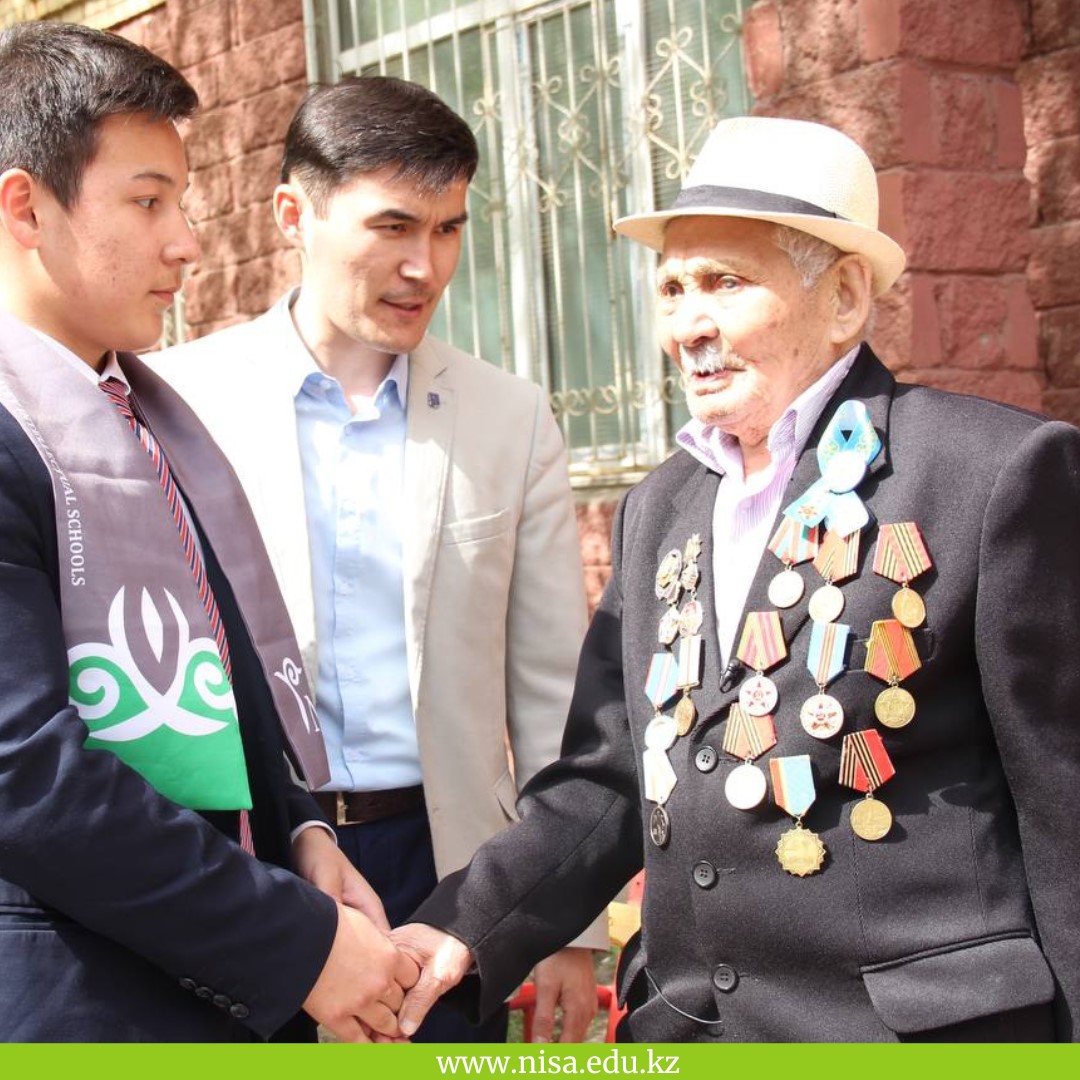 To veterans with gratitude
NIS International Baccalaureate students and the Capital's Youth Political Center congratulated veterans on Victory Day.
Personality. Character. Success