NIS met with Zhannur Niyazbekova, who became «The Best Student of China»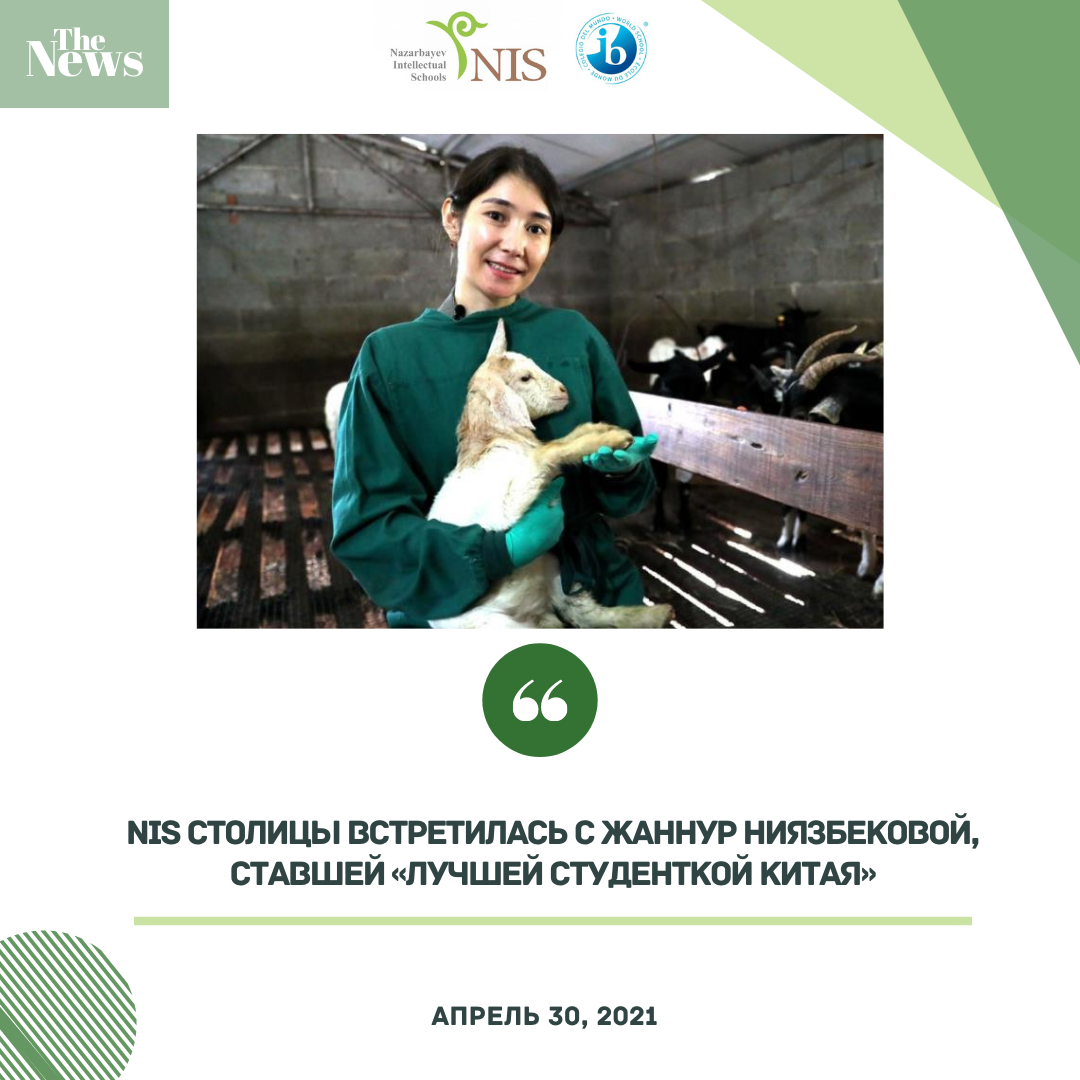 Teachers, students and parents of Nazarbayev Intellectual School in Nur-Sultan met the first Kazakh student Niyazbekova Zhannur Nurdildakyzy, who became «The Best foreign Student of China» within the framework of the «Smart Thursday» project.
Zhannur Niyazbekova is a 4th year PhD student of Preventive Veterinary Medicine at Northwestern University of Agriculture and Forestry of the People's Republic of China, Kazakh woman, who received a scholarship of the President of the University in December 2020 and the status of «The Best Student of China» in March 2021.
During the conversation, Zhannur Niyazbekova talked about the intricacies of her profession, the peculiarities of the education system in China, ways of admission, the impact of the global pandemic. During the meeting, information about the life, career of the «Best Student» was presented, and questions were asked to the audience.
– In 2017, I won a scholarship from the Northwest Agriculture and Forestry University of Shaanxi Province in the People's Republic of China.  You don't have to know Chinese to enter a Chinese university. The first year we were taught Chinese from morning till night. Within a year I had mastered the Chinese language, now I'm participating in different scientific events at the university. During my years as a student, I saw a Pakistani student receive the «Best Student» Award. While studying, I learned that no Kazakhstani student had ever had such status before. At that moment a goal appeared: «In two years I too will receive this Award and celebrate it with my compatriots». According to the requirements of the contest, it was necessary to publish articles in publications with a high ranking. My year and a half of research was fruitful, and my research article was successfully published. There also had to be an HSK-4 certificate reflecting my Chinese language proficiency. In addition, I had to actively participate in intra-university and international events, conferences, and publish articles about my life in China. Besides, I actively participated in the university project on poverty alleviation and village revitalization. This event helped me a lot to achieve success. Thus, my candidacy met all the requirements and I achieved my goal, – says Zhannur Niyazbekova.
Zhannur Niyazbekova achieved this status, which is not always granted to students from the Celestial Empire, thanks to her inquisitive, hard-working and ambitious nature. According to China's Best Student, she does not use the words «No, impossible, I don't know». The meeting with Zhannur Niyazbekova, whose motto is «Everything is in your hands: improve or destroy your life», was well received by all viewers and provided positive feedback.