Ibrai Almat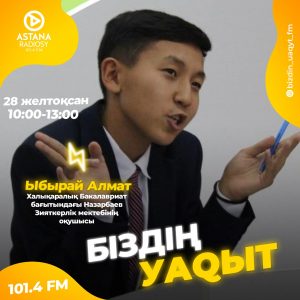 A 12th grade student from Nazarbayev Intellectual School in Nur-Sultan, Ibrai Almat, was a guest on the radio show «Our time».
Ibrai Almat answered questions from the programme presenters and gave his opinion.
The International Baccalaureate Year 12 pupil's choice of specialisation is «Civil and environmental engineering». In his opinion, the profession is a very relevant and useful one. In the future he plans to have exchange experiences in the USA, Hungary and return to his home country.
When asked by the presenters, "What was the reason for choosing this profession?" Almat replied: "Probably because my brother works in the field of aeronautical engineering. Perhaps the thought of the success and creativity of the famous Elon Musk and the fact that there is no one like him in our country was the reason why I chose this profession. In high school, I was sure I would choose humanities, but then I became interested in technical subjects: Physics, Mathematics and Chemistry. I believe that they are exact sciences that study secret mystical forces."
In addition to lessons, Almat takes part in tournaments and intra-school debate competitions. He also plays amateur football.
According to Almaty, enrolling abroad depends primarily on financial means. If parents do not have financial difficulties, it is easier to go abroad. There are a lot of pupils, students who take grants to the USA from all over the world. There is strict competition among them and the best ones are selected.
Almat said that during distance learning he has classes from 8 a.m. to 12 noon, and then needs about 4-5 hours to do his homework and apply to universities, and even spends a whole day thinking about how to write letters to a university.
When asked by the presenters:"What is your advice to graduates?":
"First of all, you should keep an eye on your GPA from grade 9 onwards. Grades 9, 10, 11 should be the best. Secondly, the profession should be chosen with your heart. That is, listen to your heart, regardless of what anyone says or thinks. You need to ask yourself, 'What would you do if there were no assignments, no exams, no grades, and choose what you like to do," Almat answered.
To listen to Ibrai Almat's interview in more detail, click on the following link: https://qazradio.fm/astanafm/kz/audio/44941
Daler Ramazanov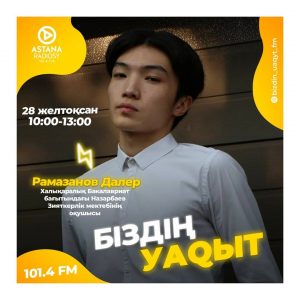 Daler Ramazanov, a grade 12 student at Nazarbayev Intellectual School in Nur-Sultan, was a guest on AstanaFM "Our time".
The presenters asked questions and got to know Daler better.
Daler has already applied to the University of Groningen in the Netherlands and is now waiting for the International Baccalaureate Diploma. The duration of studies at this university is shorter than in the USA, i.e. 3 years of intensive study. He chose to major in urban planning. It is an underdeveloped field in Kazakhstan. Urban studies is the study of the processes and systems of urban life.
In the school's curriculum, the Intelligent School graduate chose Economics, Geography and English at the highest level and Maths, Physics and Kazakh at the standard level. His favourite subject was geography, because he had a unit on urban studies in Geography class. Then his interest in the field grew.
According to Daler, this specialty is very rare at undergraduate level, mostly in the USA, the UK and Australia. Not wanting to go far from Kazakhstan, his choice of European countries was the Netherlands. Groningen is called the student city of the Netherlands, because it has 50,000 students.
"Studying abroad is not difficult, all the skills I learned at school helped me. I applied and sent in my documents within an hour. The IELTS certificate score basically starts at 6.0, and after I got a 7.5, I was accepted. In other words, you only need to have an International Baccalaureate degree and an IELTS certificate to get into a university," says Daler Ramazanov.
"At first I wanted to go into business administration, but since most students choose that, I didn't want to be one of the many. After graduating with a degree in Urban Studies, I will be involved in finding solutions to current environmental problems in the country's megacities," he replied about his chosen major.
According to him, the most popular professions are engineering and biotechnology. Many of Daler's friends choose business administration, engineering and computer science.
When asked by the presenters, "What advice would you give to graduates?" he replied:
"The students of the International Baccalaureate School in Nur-Sultan came together and created the IBpick.kz website. The site is designed for all graduates and students. An applicant goes to the site and fills in a special questionnaire. According to the results of the questionnaire we find detailed information on the specialty, universities and examinations. We have divided among ourselves, searched and collected information on 1,100 universities around the world," he said.
To hear more of Daler's interesting answers, follow the link below: https://qazradio.fm/astanafm/kz/audio/44940
Zhanetta Abdykerimova and Kyrmyzy Aryn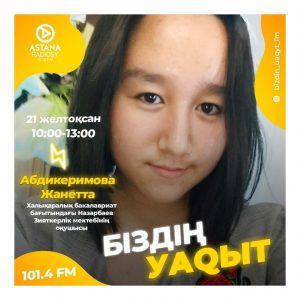 "Our Time" radio show was hosted by Zhanetta Abdykerimova and Kyrmyzy Aryn, students of grade 9 "D" of the Nazarbayev Intellectual School in Nur-Sultan city.
The girls in front of the microphone answered questions from the presenters and gave their thoughts.
Zhanetta and Kyrmyzy said they enjoy reading books and collecting bought and donated books in their private libraries.
Zhanetta and Kyrmyzy studied at Lyceum No. 66 in Nur-Sultan and were preparing to enter Nazarbayev Intellectual School together. They have been friends ever since. Both love the Kazakh language and history.
The girls are concerned that young people in society do not widely use the Kazakh language. In their opinion, everyone should start with their family, now that parents do not pay much attention to their native language, saying that they will teach their children three languages at once. Therefore the initiative in language learning should be in the Kazakh language.
"Research projects, papers, articles and necessary information in the Kazakh language are lacking in social networks, the Internet. In addition, I believe that the state should organize projects, programmes, television contests among young people, which would be conducted only in the Kazakh language. It is necessary to show the importance of the Kazakh language among young people," says Zhanetta.
"Senior government officials should know and speak Kazakh. If they have a low level of language skills, they need to attend refresher courses. For example, if you go abroad to study or get a job, you will need to know the language of that country or general English. But in our country there is no such principle, the principle of knowing the Kazakh language is not mandatory when entering the service," said Kyrmyzy.
According to the girls, they do their school projects and research in English because it is easy to get information from English-language resources. And if they need to write in Kazakh, the data is translated from English into Kazakh. They do not agree with the idea that "speaking Kazakh means translating all words into Kazakh". They believe that the original of many scientific terms should remain.
Kyrmyzy and Zhanetta believe that young people speak more Russian because of the influence of social media and imitation of the West. Public reaction to people who can't speak Kazakh correctly reduces their desire to further improve and develop the language.
Students at the Intellectual School have been studying Kazakh literature since primary school. Zhanetta noted that Berdybek Sokpakbayev's work influenced the discovery of a passion for reading. In particular, the works "My name is – Qozha", "Journey to childhood" и "The dead will not come back".
When the presenters asked, "What profession did you choose?" Zhanetta replied:
"I haven't decided yet. However, I am interested in journalism. I could also be a copywriter. I am interested in collecting, processing and delivering information. We have an AlashTime page in the social network. We write about periods from the Alash Horde era to Independence, biographies, ministries and feats of historical figures. We search, collect and process information from various resources on the Internet."
"I don't have a specific profession at the moment. However, I want to test myself in different areas. I am looking for my strengths and weaknesses, developing and considering them," Kyrmyzy replied to the same question.
In addition to education, the girls have favourite activities and in their spare time they do creative work. Zhanetta makes paintings and toys out of felt and wool. In her work, she depicts and conveys Kazakh "jailau", nature and culture with the addition of ornaments.
You can listen to the full interview with the girls at this link: https://qazradio.fm/astanafm/kz/audio/44851
Aruzhan Abilova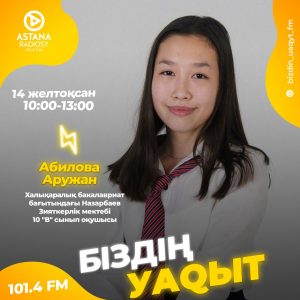 According to tradition, Aruzhan Abilova, a 10th grader from the Nazarbayev Intellectual School of Nur-Sultan, was invited as a guest on the "Our time" radio programme.
Arujan said that at school she is interested in Physics and Mathematics. Since primary school she has participated in various Olympiads, quizzes and won prizes.
In the not too distant future, Aruzhan, who wishes to continue her studies in the USA or Germany, intends to return to her country after graduation and to apply her knowledge and experience gained abroad in Kazakhstan to further her education and science. According to her, everyone should contribute to the prosperity of their country, continue the noble heritage of their ancestors and leave their mark on it.
At the same time, despite her young age, Aruzhan is saddened by the problems in society and the lack of communication among young people in the Kazakh language. She believes that a person who speaks many languages should not forget her native language, on the contrary, she should show respect for it. At present Abilova Aruzhan specializes in learning German.
Arujan decided to take part in a national intellectual project "Zhuzden zhuirik" of the National TV and Radio Company Kazakhstan, thereby testing her knowledge of history and geography. The person who sparked her interest in history was her grandfather, Alimgazy Dauletkhanov, a Turkologist with a deep knowledge of history. Her strength and will and knowledge made her the winner of the said project.
 The young intellectual is also doing triathlons.
"When I was 7, I used to run in the mornings with my mum. Then I rode a bike and went swimming. When quarantine started, I decided to take up triathlons. Now I am included in the professional youth triathlon team of Nur-Sultan city. In the future I plan to participate in triathlon competitions among adults and Ironman competitions. At the moment together with the team we are preparing for the Super Sprint distance: swimming – 300 m, cycling – 8 km and running – 2 km. I prefer to take part in the cycling. We train at the bike park near Kossy," says Aruzhan.
A student of the Intellectual School likes to read Mukhtar Shakhanov's novel "Orkeniettin adasuy", especially the work "Computer basty jarty adamdar". As for foreign authors, she likes Jack London's novels "Martin Eden", "Burning Daylight".
The presenters asked Aruzhan about her contribution to the use of the Kazakh language.
"To increase the use of the Kazakh language, I host Kazakh podcasts. Together with Bakhytgul Salikhova, we have analysed 100 books in the Kazakh language, considered the issues and ideas raised in them, and addressed them to a wider audience. I write the script myself and voice and edit the podcasts. You can listen to our podcast on platforms available for iOS and Android devices," says Aruzhan.
At the end of the programme, Aruzhan advised listeners to use their free time wisely, make their plans in advance and constantly work on improving their knowledge.
Fatima Rishatkyzy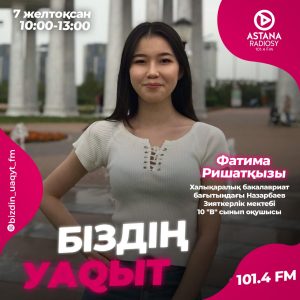 Fatima Rishatkyzy, a 10th B grade student from Nazarbayev Intellectual School of Nur-Sultan, was a guest on the radio show "Our Time".
The presenters asked questions and got to know Fatima better.
In the future, Fatima sees herself as a scientist studying the field of Astrophysics (Astrophysics is the branch of astronomy that studies the state and chemical composition of celestial bodies and their systems, the interstellar medium and intergalactic media, and the chemical processes that take place in them).
"I love observing the night sky with my telescope, which my parents gave me as a present. For me, observing the telescope is not a job, it's a real relaxing moment. I've been fascinated by the subject of physics since I was a child and I was in a hurry to learn it faster. Basically both my parents are Physics teachers. Sometimes I help my parents check their students' work," says Fatima.
A future scientist taking part in various competitions and research paper contests has a successful ongoing research project. The science project "Benefits of asteroids for our planet" involves collecting minerals and mineral particles from celestial bodies orbiting asteroids between the planets Mars and Jupiter in space.
Fatima is the chief correspondent and presenter of NISA PRESS, the Nazarbayev Intellectual School in Nur-Sultan. NISA PRESS captures school news, pupil-teacher relations, talk shows and special programmes.
"Being an active member of this organisation has instilled in me the public speaking skills I needed in my life and in my future as a professor," says the intellectual.
Fatima, a lover of literature after physics, in her spare time often reads literary books in the novel genre. And in the fantasy genre, she chooses works by foreign authors such as J.R.R Tolkien, Ray Bradbury, J.K. Rowling.
"My favourite work in Kazakh literature is the novel by Mukhtar Auezov "Abay's Way". I would like to say that I have a great interest in Sapargali Begalin's novel "Bala Shokan". When we first came to the school, we read this work, and even in 7th grade I had a nickname "Bala Shokan", recalling interesting moments at school.
At the International Baccalaureate School, students not only read the work, but also analyse the author's idea, the language use, the purpose of the work, the thought they wanted to convey through the characters and dialogues. This can be said to be a well-developed skill for all students at the school.
At the request of the programme presenters, Fatima recited a poem by Abay as a guest "Asempaz bolma arnege".
Fatima shared with the audience the principles to be followed on the way to achieving the goal.
"To succeed, first choose a field that you like, one that is close to your soul. So that when you wake up, you rush to a job you love. Achieving a goal requires perseverance. Despite all the obstacles and obstacles that you face, you have to break stereotypes and adjust your psychological state. And the main factor that never loses its importance is time, i.e. making a plan with rational use of time," she said to motivate the audience.
 To hear more of Fatima's interesting answers, follow the link below: https://qazradio.fm/astanafm/kz/audio/44699
Zhalgas Tleumuratin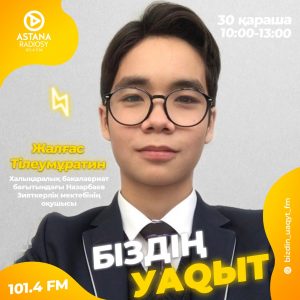 Zhalgas Tleumuratin, grade 10 student of Nazarbayev Intellectual School in Nur-Sultan, visited Radio AstanaFM's "Our time" programme.
The presenters asked questions about his favourite subjects, his future profession and his hobbies. Zhalgas has many favourite subjects, but he mentioned three that are close to him. They are: Mathematics which he has liked since 4th grade, participated in various Olympiads and won prizes; Physics which he began to be interested in in 7th grade; and English since he likes learning foreign languages. For him, these three subjects occupy a special place and contribute to his development as a specialist and a person.  In his opinion, engineering is one of the most in-demand and important professions, and has a great future in technical education.
In his spare time, Zhalgas composes poems on a free theme. Zhalgas' poetic art must be handed down from his grandfather, honoured cultural worker of the Kazakh SSR, poet, "kuishi", journalist, public figure Tleumurat Kozhabekov.
Zhalgas also sings. In addition to foreign and local pop music, he can sing songs performed by traditional singers Aigul Yelshibaeva, Aigul Kosanova and Kuandyk Rakhim. Since childhood, he has loved playing football. At school, during the breaks, he gathers with classmates and plays chess.
"It is a false stereotype that a student at Nazarbayev Intellectual School has no free time and no entertainment. Everything depends on the individual. If you use your time effectively, you can do anything," says the grade 10 student. "At the moment I am reading three books. I am reading "Abyz Abish" by Saúytbek Abdrahmanov in Kazakh, "Morphine" by Mikhail Bulgakov in Russian, and "Hound of the Baskervilles" by Arthur Conan Doyle in English. Under the influence of the 100 Books project in our school, reading books has become my new hobby since 8th grade."
For Independence Day, Zhalgas presented his poem "Tauelsizdik tugyry".
"In this life, you need to find something that interests you, that motivates you. One must have a high level of zeal, set clear goals and use one's time effectively," says Zhalgas.
Follow the link to listen to the full interview:
Maksat Anuarbekov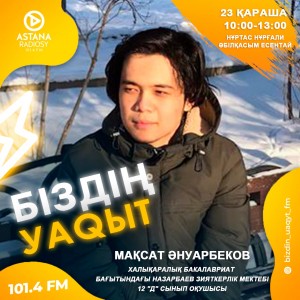 Maksat Anuarbekov, a grade 12 "D" student at the Nazarbayev Intellectual School of Nur-Sultan, was a guest on the radio programme "Our Time".
The presenters introduced the talented Maksat to the audience and were able to get answers to their questions.
Speaking about his future profession, Maksat said that he wants to be a modern renaissance man. In other words, he dreams of becoming a talented person who manages to combine the professions of director, screenwriter, architect, sculptor and musician. In fact, he has believed in his dream since he was 12 years old.
Maksat Anuarbekov took a week-long directing course at the New York Film Academy in Florence and won a prize. For the first time, in 9th grade, his English teacher noticed Maksat's abilities and found a sponsor to help him further develop his skills. The sponsor, in turn, paid for a week's study in Florence and helped him financially.
"Then I got an invitation. I had several options: to do an internship in Los Angeles, Florence, Beijing, Paris or New York. As I love Italy and have been studying Italian for three years, I chose the city of Florence. However, I couldn't go because of the pandemic. It should be noted that they liked the works I sent them," says Maksat.
In addition, the Intellectual School pupil, who first started writing scripts at the age of 12, has improved his professional skills and taken several courses at Kazmedia.
Maksat, who used to imitate the style of Tarantino's films, is now focusing on conveying more realism and feeling in his scripts. According to him, he did not choose cinema, cinema chose him. He believes that in filmmaking, it is important to have a philosophical, educational message, to reveal character development, to convey the main idea.
As the saying goes "Knowledge and seventy crafts are not enough for a dzhigit", and Maksat also plays the piano and guitar. He and a friend are also planning to release a 7-song album in the near future.
To hear more interesting answers from Maksat, follow the link below: https://qazradio.fm/astanafm/kz/news/26802/
Balgyn Orazaly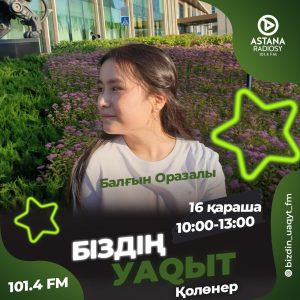 Balgyn Orazaly, a grade 11 "B" student at the Nazarbayev Intellectual School in Nur-Sultan, visited Radio AstanaFM's "Our time" programme.
During the interview, she answered questions from the programme presenters and callers, and openly expressed her opinion.
In August this year, in response to the pandemic, a group of volunteers, led by Balgyn, set up a project to provide free education to children of health workers, socially disadvantaged families and families with many children. Later, with the support of the US Embassy, the "Uide oqu" project expanded to include students from all the Nazarbayev Intellectual Schools of Kazakhstan. Presently there are about 100 volunteers and 400 pupils at "Uide oqu". The children are taught three times a week for 30-40 minutes on the ZOOM platform. Before enrolling, a contract is made with the parents beforehand. If a child misses class twice without a valid reason, the student is automatically dropped from the free education. The first wave of the project will end in November.
Presenter: "Your teacher praises you for being a very fast reader. How true is that?"
"A year ago, I started learning a speed-reading technique. I practise for 5-6 hours a day and now read 1000-1200 words a minute. This is due to the difficulty of the text. Today, the main resource is education. You need to save time and learn quickly," says Balgyn.
During the interview, the parents of the "Uide oqu" student called and thanked Balgyn and her team. The pupil's mother said that his son's maths and English classes had improved since the summer, with more grades of "5".
You can read more of Balgyn's answers to the other questions at this link: https://qazradio.fm/astanafm/kz/audio/44401
Meirjan Saduakas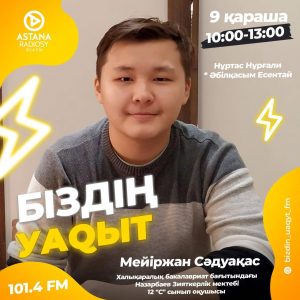 Meirzhan Saduakas, a 12th grade "C"  student at the Nazarbayev Intellectual School in Nur-Sultan, was a guest on Radio AstanaFM's "Our Time" programme.
During the interview, Meirzhan was quick to answer the presenters' questions and openly expressed his opinion.
"Since childhood I have been reading Askar Altai's works among Kazakh classics. Besides, I really like Berdybek Sokpakbaev's works in the prose genre. In the field of poetry, I like to read the poetry of Mukagali Makatayev and Mukhtar Shakhanov," said the Intellectual School student. "My favourite works of Kazakh literature are "My Name is Kozha" and "Journey to Childhood", my favourite works of world literature are "Fathers and Children" by Ivan Turgenev and "Thérèse Raquin" by Emile Zola.
Meirzhan wants to become a computer systems architecture engineer in the future. He plans to study in the USA in the near future.
When asked "Are you brave?" Meirzhan replied. "Of course, there are different situations in life, there are quite a few moments when you hesitate to take a certain step. However, I often prefer to take risks, because even if you make a mistake, it becomes an experience."
"How do they read fiction at Nazarbayev Intellectual School?", "Is it true that pupils do not want to choose the subject "Kazakh literature?", "What can you say about the state of Kazakh-language materials on the Internet?", these and other questions were answered in the programme.
Follow the link to listen to the full interview: