Independence Lessons in NIS IB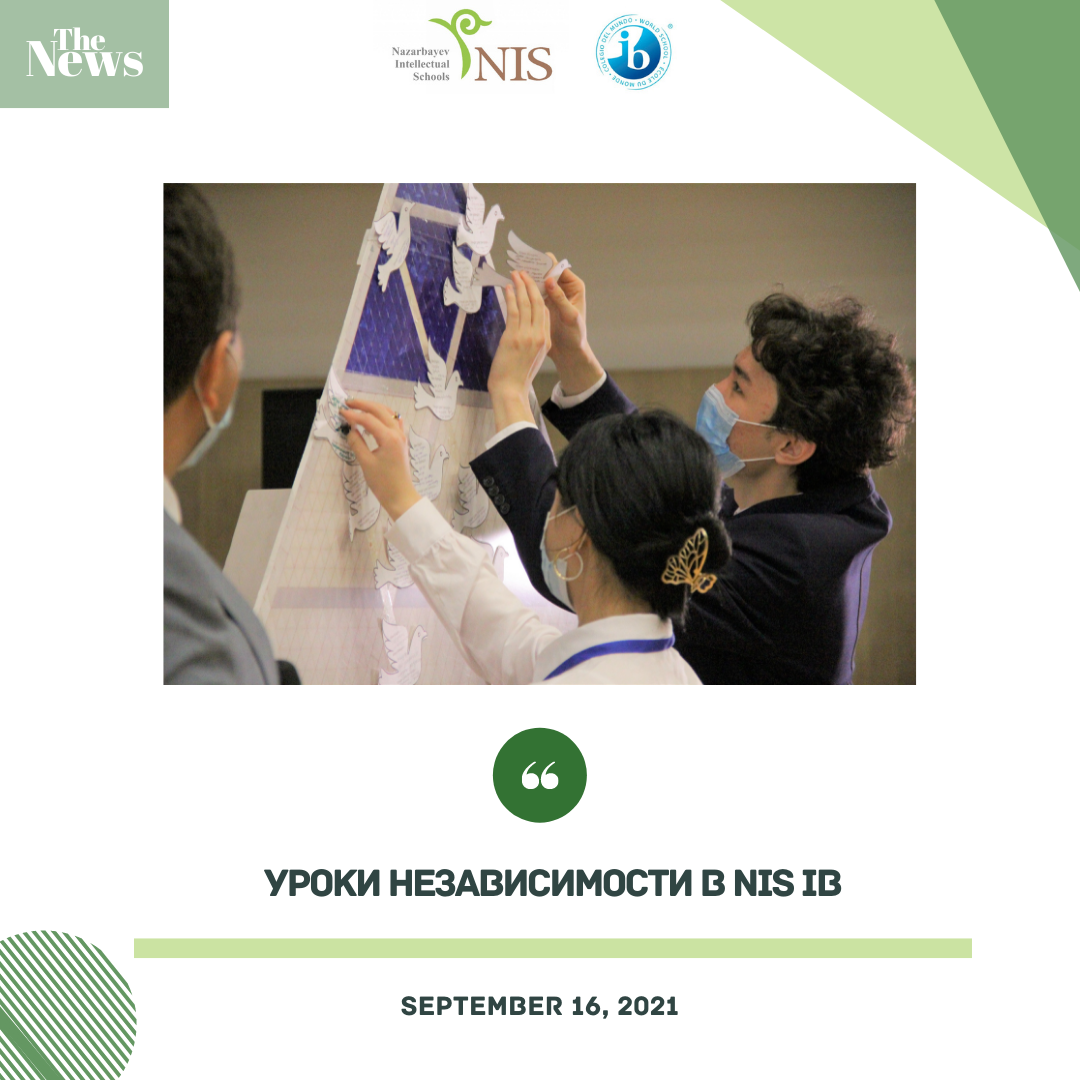 On September 15, 2021 Nazarbayev Intellectual School of Nur-Sultan held a remote open lesson "Years of Creation and Development" for teachers and students from more than 30 leading schools of the capital. The event was simultaneously watched by teachers and about a thousand schoolchildren on a live Youtube channel.
At the lesson dedicated to the 30th anniversary of Independence of the Republic of Kazakhstan and dedicated to the disclosure of the role of the First President of Kazakhstan – Elbasy N. A. Nazarbayev in the establishment and development of the Independent Kazakhstan experts took part and left positive feedback.
Among the experts is a senior expert-scientist of the RGU "National Center for Manuscripts and Rare Books" of the Ministry of Culture and Sports of the RK, doctoral student of PhD of L. N. Gumilev Eurasian National University Imangala. N Gumilev Imangaliev Almas Temirbekovich, leading research officer of the library of the First President of the Republic of Kazakhstan – Elbasy Ospanova Asiya Adilovna, director of Intellectual school Saduakasov Sabyrjan Umirtayevich, teacher-researcher of "History of Kazakhstan" Ahmetova Saule Ramazanovna, teacher-expert of "Geography" Omralina Meruert Atarovna and teacher-expert of "Kazakh language and literature" Ganiev Turdybay Japparovitch.
The participants of the open lesson spoke about "The congress of the leaders of world and traditional religions – platform of cooperation of various cultures and civilizations" and showed activity in performance of tasks.
During this lesson, group work for disclosure of the topic was organized. The 24 students in the class were divided into 4 groups and research was conducted based on the materials on the website www.religions-congress.org. Group 1 was tasked with determining the geography of the convention, analyzing the concept of significance, and presenting the results of the work in the form of an infographic. Group 2 was asked to analyze the agenda and keynote speeches of the Congress and present the results as posters (timeline). Group 3 by analyzing the congress conclusions gave an assessment of the congress performance and drew consistent conclusions. And the last task for the group was to interview the experts-guests who came to the lesson on the topic and present the result of their work in the form of an infographic.
In the course of the lesson conducted for the purpose of interactive promotion of the role and contribution of Yelbas Nursultan Nazarbayev to the peace initiatives of the Republic of Kazakhstan on the world arena, the topic was revealed, and with the active participation of students and qualification of the school "History" teacher Dulat Turarbekov the lesson was at a high level.