NIS graduates successfully pass International Baccalaureate exams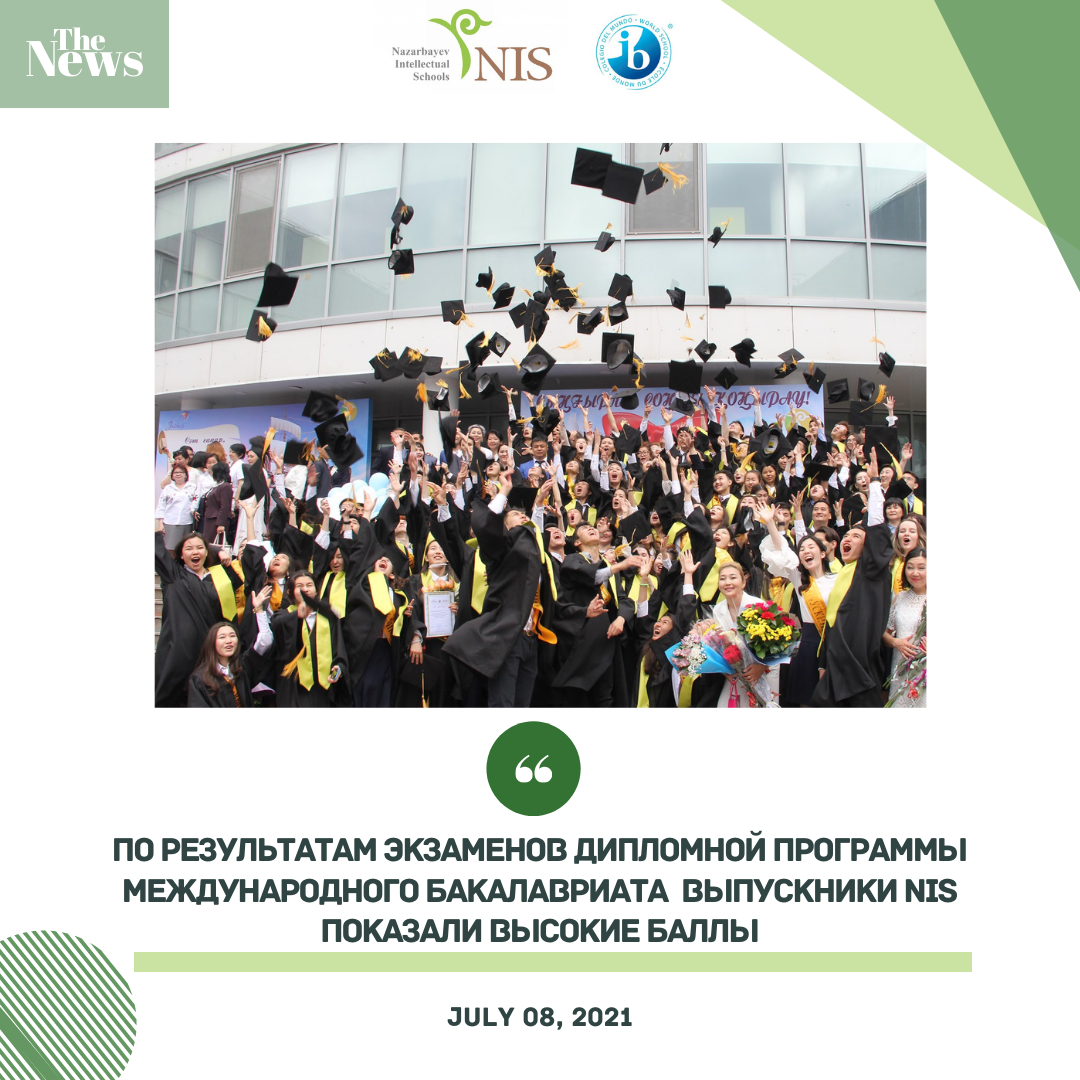 The International Baccalaureate Diploma Program (DP) exam results for twelfth grade students were released on July 6, 2021. Based on the results, 153 graduates received International Baccalaureate diplomas.
Graduates of NIS in Nur-Sultan demonstrated the highest score in the school's history, with an average diploma score of 34. Also 1 student scored 44 out of 45, which is only 1% of all graduates in the world.
20 of the school's graduates scored over 40 points:
44 points – 1;
43 points – 1;
42 points – 2;
41 points – 7;
40 points – 9.
NIS IB is the only public school in the Europe, Asia and Middle East region that teaches the IB Diploma Program for free and graduates more than 150 students annually.
The IB Diploma Program diploma allows its graduates to enter the 1st year of study at once, bypassing the mandatory Foundation year.
Since this spring the students of Nazarbayev Intellectual School in Nur-Sultan have received letters from the best universities of the world, such as the Massachusetts Institute of Technology, University of Pennsylvania, New York University in Abu Dhabi, New Jersey Institute of Technology, Hong Kong Polytechnic University, Kyoto University, Ohio State University, Saint Louis, Washington and Lee University, Tampa, South Florida University, Notre Dame and others.
According to Sabyrzhan Saduakasov, the Principal of NIS in Nur-Sultan, the International Baccalaureate educational program allows our graduates to be competitive at the international level and study at the best universities in the world.
– Despite the current quarantine situation and the new format of education in a pandemic, the NIS ІВ team made the most powerful result. And the school was the first free school with the highest number of graduates with the highest scores in the region. Thanks to all the teachers, coordinators, examiners, and parents in our community, their unwavering passion and commitment make our mission of creating a better world through education possible.
I warmly congratulate the graduates who received their results today. They demonstrated a thirst for knowledge, a determination to succeed, and a belief in their ability to take the next step, secured by high-quality training, – Sabyrzhan Saduakasov shared his impressions.
It is worth noting that NIS IB in Nur-Sultan is the only school in the network of Nazarbayev Intellectual Schools, which teaches the IB program, opened its doors in 2010. In September 2013, the school began its Diploma Program, which is a universal course preparing high school students aged 16-18 to enter the world's leading universities. In November 2015, the school received the International Baccalaureate Authorization for the Core School Program for students ages 12 to 16 in grades 7 through 10. The Core School program is designed to guide students in the search for awareness of their role in nature and social space.