Almas Murat: "It would be a mistake to say: "I can't do it".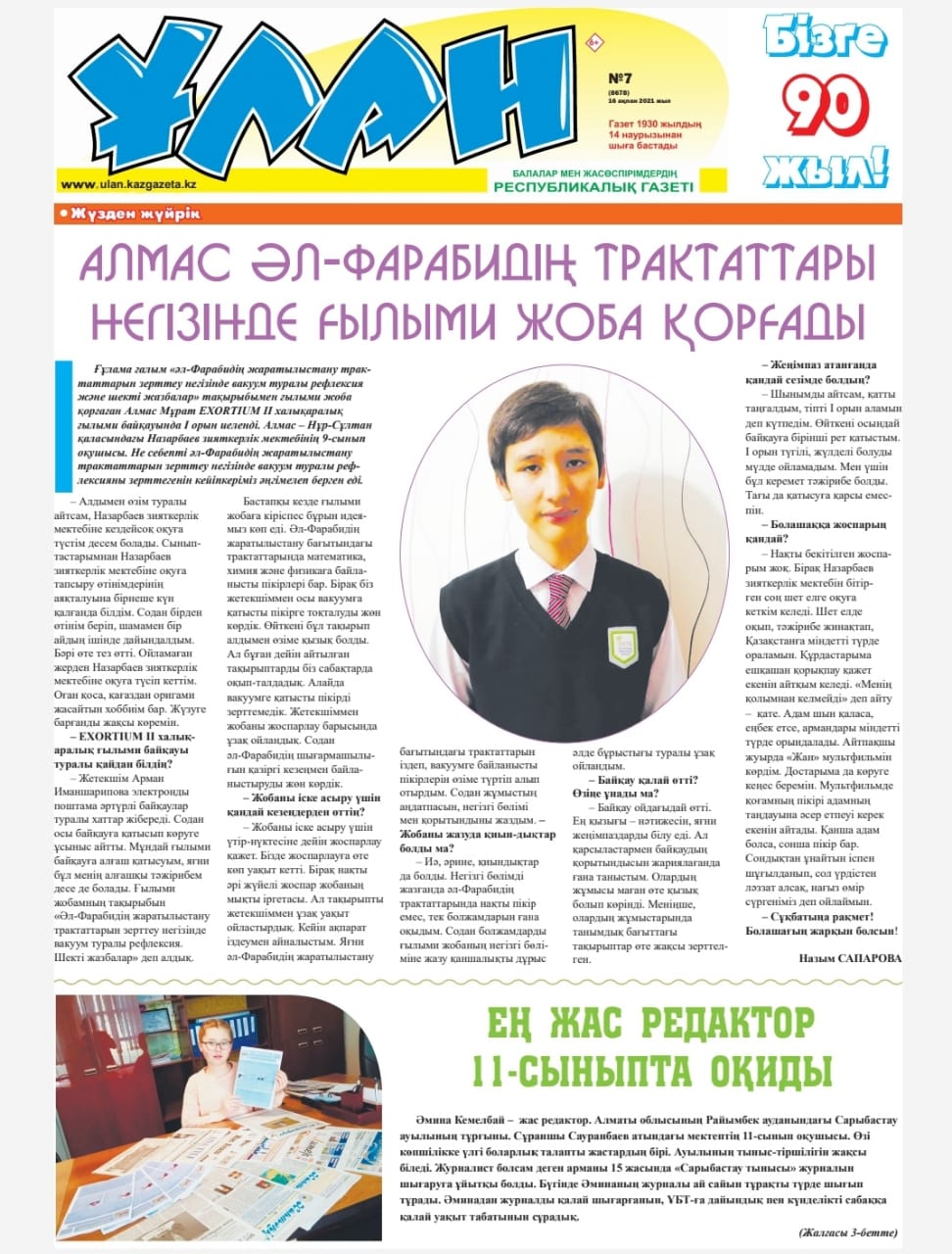 Almas Murat, a 9th grade student of Nazarbayev Intellectual School in Nur-Sultan, gave an interview to the «Ulan» newspaper.
Almas, who won first place in the EXORTIUM II International Science Contest, defended his science project on "Reflections on vacuum and limit notes based on the study of al-Farabi's natural treatises" and told the "Ulan" newspaper why he studied reflections on vacuum based on the study of al-Farabi's natural treatises.
"- How did you find out about the II International Scientific Competition EXORTIUM?
– My supervisor Arman Imansharipova sent me e-mails about various competitions. Then she suggested me to take part in this contest. This is my first participation in such a scientific competition. The topic of my research project is "Reflections on vacuum on the basis of studying Al-Farabi's treatises on natural science. Limited Notes."
Initially, we had a lot of ideas before we embarked on the research project. Al-Farabi's treatises on the natural sciences contain views on mathematics, chemistry, and physics. But my supervisor and I decided to focus on this vacuum. Because this topic was interesting to me at first. And the topics voiced earlier, we studied and analyzed in class. However, we had not explored opinions about the vacuum. My supervisor and I thought long and hard about planning the project. Then we decided to connect Al-Farabi's work with the modern period.
– What are your plans for the future?
– I don't have a definite plan. But after graduating from the Nazarbayev Intellectual School I want to study abroad. I will definitely study and gain experience abroad and come back to Kazakhstan. I want to tell my peers that you should not be afraid. It would be a mistake to say, "I can't do it". If a person really wants and works hard, his dreams will come true. By the way, I recently watched the cartoon "Soul". I advise my friends to watch it as well. The cartoon says that public opinion should not influence a person's choice. As many people as there are opinions. So I think that if we do what we love and enjoy the process, we will live a real life."